By Susanna J. Smith
RESPONDING TO LIFE-THREATENING emergencies and taking care of people in the community is just part of the job for EMS professionals. But for many in EMS, that duty doesn't end when the shift does. They often go above and beyond to help their communities in other ways—from training others in tourniquet use and bleeding control methods, to using app based notifications to respond while off-duty and volunteering in their community.
Stop the Bleed: Get Trained, Train Others

One of the ways many EMS professionals are going beyond the call of duty is by participating in the Stop the Bleed campaign (bleedingcontrol.org), a national effort launched by the White House with leadership from the American College of Surgeons and in collaboration with a number of federal agencies, the National Association of Emergency Medical Technicians (NAEMT), and other organizations. The Stop the Bleed campaign aims to equip first responders and teach citizens to stop severe bleeding by applying the latest research on effective tourniquet use.
The campaign was launched in response to the mass shooting at Sandy Hook Elementary in 2012. Led by Lenworth M. Jacobs, Jr., MD, MPH, FACS, a trauma surgeon and chief academic officer at Hartford Hospital, the campaign is focused on saving more lives in active shooter and intentional mass casualty events, but it has much wider applications.
"Some states mandate that all ambulances have bleeding control kits," Jacobs says, but not every state. "I personally believe every provider should be trained and equipped with a bleeding control kit. Even though the campaign initially got into it to control bleeding from nefarious causes, this applies to bleeding from any cause."
In addition to the campaign's focus on equipping and training EMS professionals, the Stop the Bleed campaign has trained more than 250,000 police officers nationwide on how to control bleeding. The campaign is also committed to placing bleeding control kits alongside automated external defibrillators (AED) and training the public to use them. Jacobs says one of the other important ways EMS professionals are taking a lead role in the campaign is by setting up bleeding control classes for citizen responders in their communities.
For example, in Colorado, the Denver Health paramedic division is running two classes in bleeding control for the public every month. The Denver Health paramedic team also piloted a partnership with the Denver Police and Denver Public Schools to train teachers and school nurses at two high schools, a middle school, and an elementary school, in bleeding control. "Our overall goal for our school safety initiative is to get as many teachers and students trained in bleeding control as possible," says Justin Harper, Assistant Chief, Denver Health Paramedic Division. "We believe that just like CPR there could be a use for this at the student and the instructor level. This knowledge is necessary not just for an active shooter situation but any type of accident that could happen in school."
Responding to Mobile Alerts Off-Duty
In many communities nationwide and around the world, off-duty first responders and citizens alike are volunteering to be community responders on mobile platforms to receive phone alerts when someone near them needs help.
In Sweden, a Norwegian technology company, Unified Messaging Systems ASA, worked with the Swedish CPR Council to develop the SMS Lifesaver app, which alerts volunteer responders when someone has a sudden cardiac arrest. A London-based social enterprise organization, GoodSAM also created an app to allow trained responders to be alerted to medical emergencies around them. In the United States, retired fire chief, Richard Price, launched the PulsePoint app to mobilize off-duty responders and trained citizens to act, particularly in cases of sudden cardiac arrest. All three apps also help responders locate the nearest AED.
The Verdugo Fire Communications Center in Glendale, California, which serves 14 fire agencies in greater Los Angeles County, recently joined the Pulsepoint platform, systematically launched the app with fire chiefs at all those agencies as well as other first responder leadership, and then the professional first responder community before inviting the public to join the platform. "We told our teams that whether you are on duty or off duty …if you have the app running on your phone it will alert you," says Don Wise, Executive Administrator, Verdugo Fire Communications. "If you are in the area and you get a sudden cardiac arrest alert, hopefully you can respond to the location."
Verdugo Fire Communications joins 900,000 people in 29 states and in more than 2,000 communities in the U.S. now using the PulsePoint app, which has had nearly 14,000 app activations for cardiac arrest.
Scott Brawner, a firefighter and paramedic with Tualatin Valley Fire & Rescue in Oregon, is one of those responders. In 2014, while running on the treadmill at the gym, Brawner received an alert that someone had experienced a cardiac arrest nearby. He ran down three flights of stairs and located a security guard who saw Drew Basse collapse after leaving the gym. Brawner was able to administer CPR until the EMS team arrived, saving Basse's life.
"I've been a first responder since 1980," Brawner says. "Sometimes you find yourself in a position where you could help like when you come up on a car crash. But sometimes there's somebody close by who needs help and you just don't know it."
New mobile apps aim to help fill that gap and initiate a faster response by engaging trained volunteer responders, many of whom are professional first responders willing to respond off-duty.
Giving Back in the Community They Serve
The desire to give back to the community and care for people are foundational parts of most EMS services, including Allina Health EMS in Minneapolis. The culture of supporting staff volunteerism is deeply engrained in Allina Health's organizational approach. Every year, the Allina Health EMS staff logs thousands of hours in community service projects, including collecting and repairing children's bikes for kids in need through the Free Bikes 4 Kidz program. The company runs a program called Dollars for Doers, which matches employee volunteer hours at local non-profits with financial contributions several times a year. Allina Health EMS also helps raise thousands of dollars each year for the Cystic Fibrosis Foundation by participating in an annual Checking for Cystic Fibrosis hockey tournament.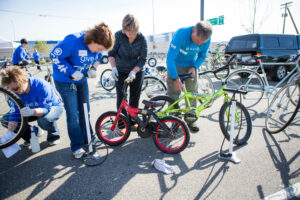 Free Bikes 4 Kidz is one of the community engagement projects supported by Allina Health EMS and its employees.
In Maryland, the Prince George's County Fire and EMS supports the Make-A-Wish Foundation by helping realize the dreams of sick children. Recently, a group of Prince George's County firefighters helped a 5-year old boy with leukemia feel like a superhero for a day by participating in his superhero scenario, which involved transporting him in a fire truck to save Santa, who was stuck in a Ferris wheel. Other public safety services also volunteer with the Make-A-Wish Foundation, including the Fire Department of New York and the Union Ambulance District, Union Fire District, and ARCH Ambulance in Missouri. In Wisconsin, the Milwaukee Fire Department launched a partnership with Big Brothers, Big Sisters last year to pair cadets in the fire department with kids in the community for mentoring.
Caring for Communities 24/7
EMS is a calling to help others and to save lives. So many of those in EMS, fire and public safety extend their commitment to caring for others in the community well beyond when their shift ends. From signing up for mobile alerts to be notified when someone nearby needs help, to teaching people in their communities how to stop severe bleeding, to volunteering with non-profits and community organizations, they are constantly caring for others on the clock and around the clock.
Other EMS teams around the country work tirelessly to make their communities safer and healthier by putting more AEDs in public places and educating people about better heart health. EMS professionals are committed not only to responding to emergencies but also to preventing them. This commitment to giving back, which is demonstrated by so many in our profession, is one that pays dividends in lives saved and lives changed.