Daniel Sundahl's art helps to ease the mental health challenges of first responders.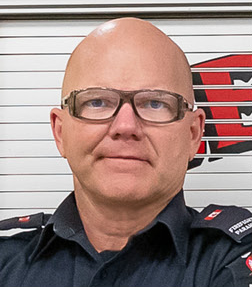 "It started as a way for me to cope, process and purge some of the bad calls I attended," explains artist Daniel Sundahl. Five years ago, firefighter and advanced care paramedic for the City of Leduc (Alberta, Canada), Sundahl turned to art as a way to manage his own on-the-job stress. "Each image is based on an actual call I attended," explains Sundahl. "I stage the photo, capture the image then digitally draw and paint over that digital photo, recreating more of how I felt during that call rather than what I saw."
Sundahl never realized how much his blend of photography and graphic art would inspire other first responders. "It was never my intention to share the images initially," he says. "I thought for sure I would receive negative feedback from my peers for showing our profession in a such a vulnerable condition."
On the contrary, his thought-provoking and sometimes haunting artwork has been celebrated throughout the EMS community. He has become a popular speaker at EMS events, has been featured in publications throughout the United States and Canada and has published two books of his work. "The positive response I received once I shared those first images was overwhelming; I never imagined others would attach their own experiences to my artwork."
What started as an outlet to express his own personal experiences with occupational stress injuries and post-traumatic growth has turned into a passion for exposing PTSD and easing the mental health challenges faced by first responders.
Says Sundahl, "It's been very therapeutic for me because the response I get every day tells me I'm not alone in the way I sometimes feel about my work as a paramedic and firefighter."
Find out more about Daniel Sundahl at dansunphotos.com.